Air Compressors
Air compressors are pneumatic devices that convert electricity (including electric motors, diesel engines, and gasoline) into potential energy stored in pressurized air (e.g., compressed air). An air compressor increases the pressure of a storage tank by forcing more and more air into it. The air compressor shuts off when the tank's pressure reaches its engineered maximum. The compressed air is stored in the tank until needed. The kinetic energy of the compressed air is tapped once it is released, and the applications have been made buried, allowing the compressed air to be used in an array of ways. The air compressor re-pressurizes the tank when the pressure reaches its lower limit. There is a difference between an air compressor and a pump because an air compressor works for any gas/air, whereas a pump works for liquids.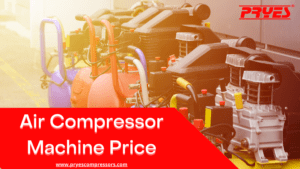 Air Compressors Manufacturer in India
Pryes compressors is one of the top air compressor manufacturers in India with extended clientele over all the states and have a strong customer base. PRYES air compressors providing the best compressor machine price in India. We manufacture all types of air compressors including piston compressor, rotatory compressor and scroll compressor in the world-class standard. We offer multi-branded air compressor services for our customers to help them for the optimum (energy-saving) use of compressed air. We manufacture the compressors using the state of art technologies to achieve minimal tolerance and maximum quality with fully automated CNC machines.
Air Compressor prices
Pryes compressors is the manufacturers of a variety of Air Compressors that has minimum maintenance, smooth starting with less noise, eco-friendly, low-starting current and high efficiency for Machine manufacturers and Self employed manufacturers. Here is the link E-commerce page for Air Compressor by PRS Compressors Pvt.Ltd…
PRYES SHOP – Ecommerce site
CLICK the above page to know the updated air compressor machine price in India and various air compressors product details.